Batoboh: Jurnal Pengabdian Pada Masyarakat (E-ISSN: 2599-1906, P-ISSN: 2548-5458) is an open access and peer-reviewed biannual journal (March and October) published by Lembaga Penelitian Pengabdian Pada Masyarakat dan Pengembangan Pendidikan (LPPMPP) ISI Padangpanjang.
The journal is dedicated to publish scientific articles on the results of community service in the field of arts, culture and humanities. Batoboh: Jurnal Pengabdian Pada Masyarakat follows the open access policy that allows the published articles freely available online without any subscription. The journal welcomes author from any institutional backgrounds. For more information on our submission system, please refer to the Submission Guidelines. Each publication contains 5-8 articles that will be indexed by Indonesian Publication Index (Garuda Portal) and Google Scholar.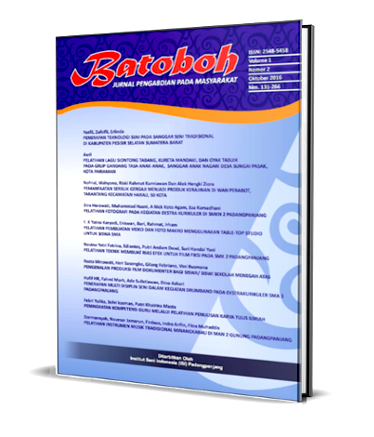 Announcements
No announcements have been published.
Vol 6, No 2 (2021): BATOBOH : JURNAL PENGABDIAN PADA MASYARAKAT
Table of Contents
Articles