EDUCRAFT adalah jurnal ilmiah yang diterbitkan oleh Prodi Pendidikan Kerajinan, FSRD, ISI Padangpanjang bekerjasama dengan Pengelola Jurnal Lembaga Penelitian Pengabdian Masyarakat dan Pengembangan Pembelajaran (LPPMPP) ISI Padangpanjang. EDUCRAFT adalah jurnal ilmiah yang terbit dua kali dalam setahun melalui sistem OJS dengan mekanisme blind reviewer.
Ruang lingkup Jurnal EDUCRAFT meliputi pendidikan kriya, kriya seni dan ekonomi kreatif. Redaksi menerima tulisan yang berasal dari hasil penelitian, pemikiran atau gagasan, serta proses kekaryaan di bidang pendidikan kriya, kriya seni dan ekonomi kreatif. Namun Jurnal EDUCRAFT juga dapat memuat tulisan interdisiplin yang dapat memperkaya dunia seni kriya pada umumnya.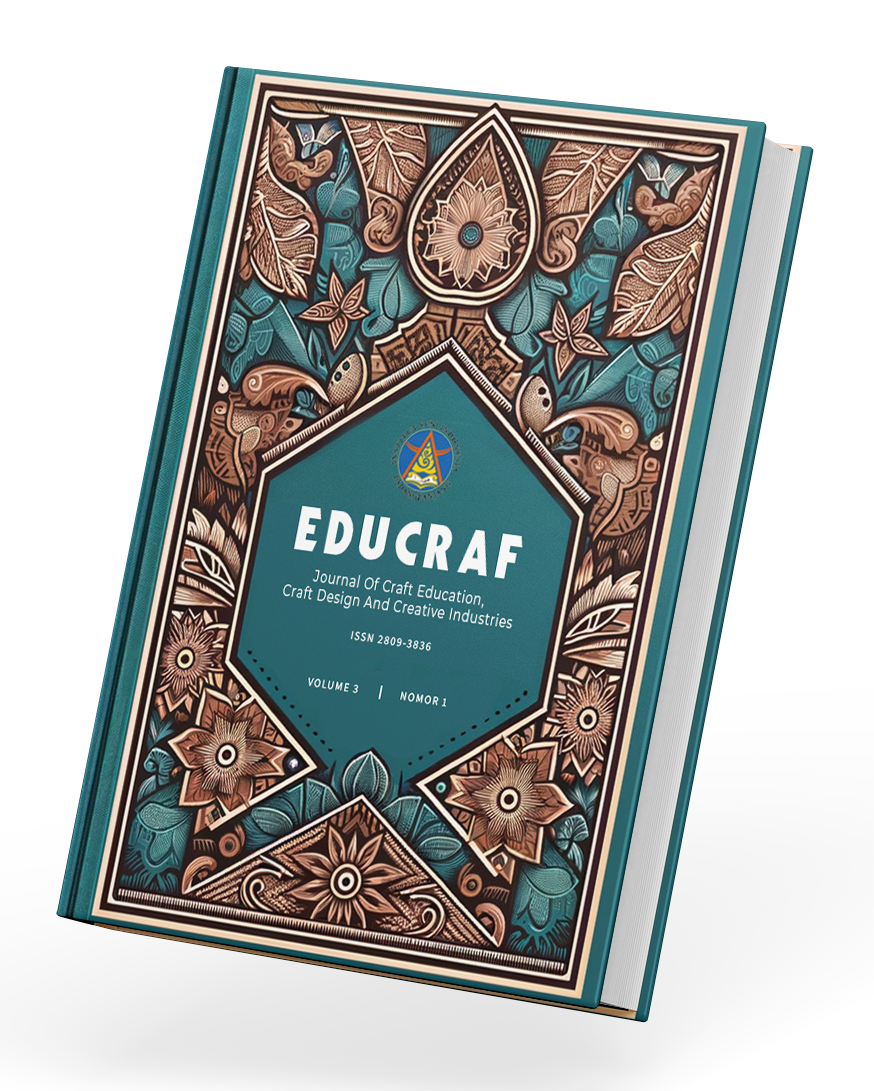 Announcements
No announcements have been published.
Vol 2, No 2 (2022): EDUCRAFT
EDUCRAFT is a scientific journal published by the Craft Education Study Program, Faculty of Fine Arts and Design, Indonesian Institute of the Arts Padangpanjang presenting original articles on research knowledge and information or the latest research and development applications in the fields of education and the arts. The scope of the Educraft Journal covers the fields of craft education, arts crafts, fine arts, design and the creative economy.
Table of Contents
Articles
| | | |
| --- | --- | --- |
| | Edali Lase, Desi Trisnawati, Yuniarti Munaf | 1-10 |
| | | |
| --- | --- | --- |
| | Mutiara Daulay, Miswar Miswar, Yunis Muler | 11-20 |
| | | |
| --- | --- | --- |
| | Jurnal Nurul Azmi, Indra Irawan | 21-33 |
| | | |
| --- | --- | --- |
| | Syahril Firiyansyah, Amrizal Amrizal, Siska Mitria Nova | 34-38 |
| | | |
| --- | --- | --- |
| | Zelfa Efry Utami, Ranelis Ranelis, Khairul Haq | 47-52 |