Journal of tourism science, technology and industry E-ISSN 2962-5378 merupakan jurnal ilmiah di bidang kepariwisataan yang diterbitkan oleh Program Studi Pariwisata, Fakultas Seni Rupa dan Desain, Institut Seni Indonesia Padang Panjang. Jurnal ini bertujuan untuk menyebarluaskan informasi hasil-hasil penelitian dan pengembangan, kajian serta pemikiran tentang kepariwisataan.
Penyebarluasan tersebut diharapkan dapat dimanfaatkan dalam praktik mengidentifikasi dan menyelesaikan permasalahan untuk tujuan pengembangan kepariwisataan.  Jurnal ini diterbitkan 2 kali dalam setahun pada Juni dan Desember secara online dengan menggunakan platform OJS (Online Journal System). Redaksi menerima naskah ilmiah dari para peneliti, dosen, dan praktisi dengan tema kajian kepariwisataan yang ditelaah secara multidisiplin dan disajikan sesuai kriteria yang ditentukan oleh jurnal ini.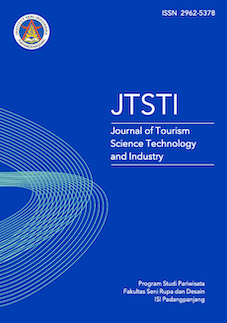 Announcements
No announcements have been published.